Amish Shed Pricing
AMISH SHEDS INC. Delivered to your site as a fully assembled building.
Included In A Standard Shed:
Steel roof (20 colours to choose from)
"Gable" or "Shed" style roof
2 (18"x27") windows
1 double door or 2 single doors c/w ramps or step
2 gable vents
Hemlock interior walls
1" Hemlock Floor Planks
Exposed steel roof for the interior
An End Porch can be included in square footage of overall shed dimensions (comes with railings)
Standard interior wall heights are 6'8″ tall, Upgrade to 7'6″ available
11′ and 12′ width sheds come with fully planked roof in the gable roof configuration 
See pictures of some of the options on the Standards & Upgrades page
Upgrade Options:
Kiln Dried Interior Walls with 1/2″ plywood sheathing and tyvek add $20/sqft
1" Hemlock Roof Planks - add 5% of base price (adds a finished look to your interior)
3/4″ Plywood Floor, add 5% of base price (provides a smooth floor finish)
Side Porch- c/w deck up to 6′ wide, add $30/sqft (shipped as kit to be installed for a fee based on size and location)
Barn roof, add 6% of base price (can only be built up to 11' wide)
Additional doors, add $100/single door (32"- 48"), $200/double door (4'-8')
Shed style roof with larger soffits for modern look, min. 2/12 pitch
Additional windows, add $100 for (18"x27"),  $120 for (24"x27")
Exterior wood treatment, add 10% of base price, let us do the dirty work for you (silicon based stain, other stain pricing available upon request)
Interior wall heights can be made up to 8' tall, quoted separately and not available on all shed widths due to shipping restrictions
Standard Shed Pricing Chart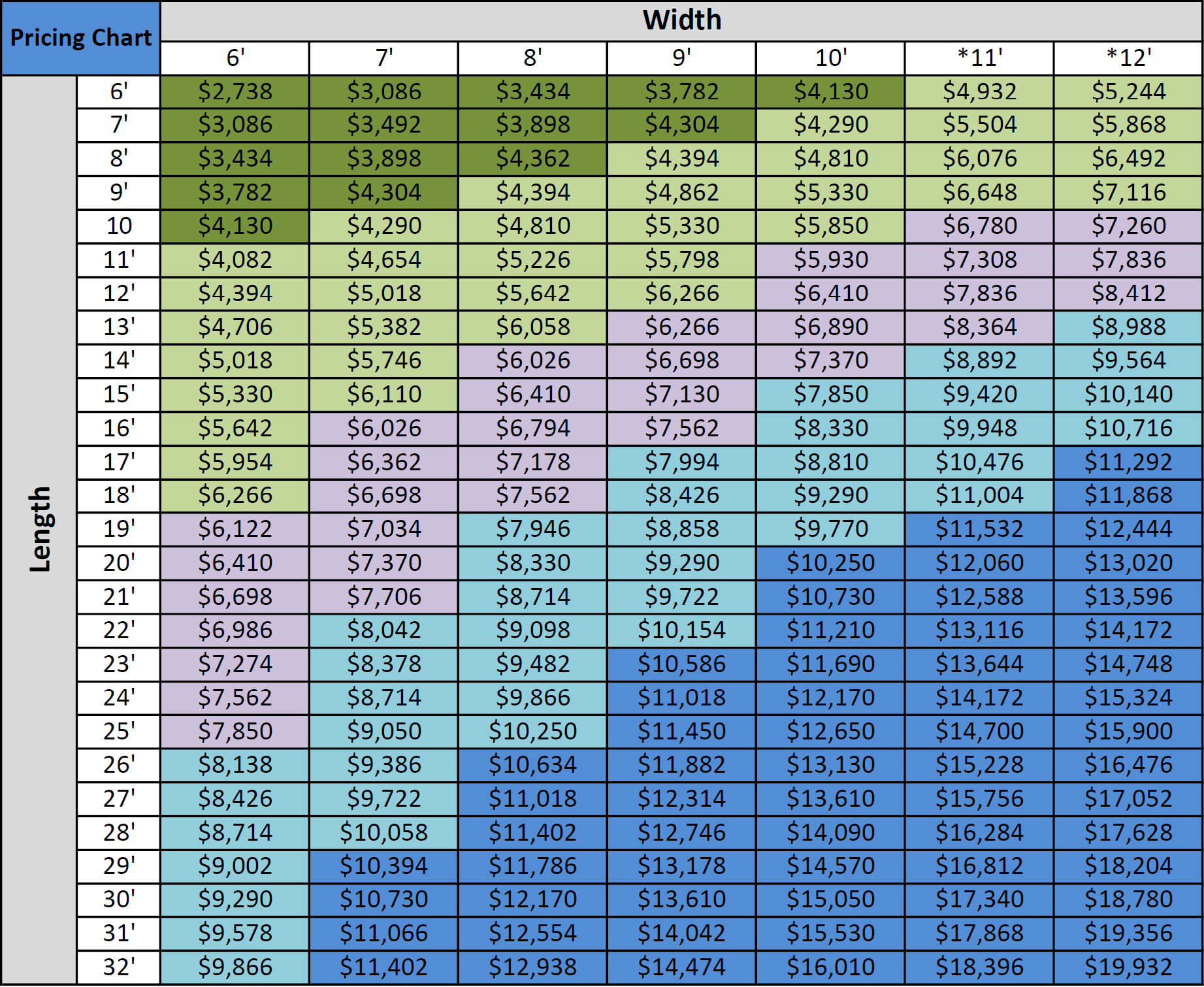 If you know the size of Amish Shed that you are looking for, use the colour coded Pricing Chart to find the cost of a standard shed.  The sheds are categorized by square footage.
Prices are in Canadian Dollars
FREE delivery to Niagara Region
Outside Niagara Region, delivery costs are $2.50/km (one way), plus any tolls, minimum $250
Unless you get a kit, our sheds come fully built, so make sure you have room for us to drive in or back up to your property
*11′ & 12' wide sheds require installation of eaves post delivery (see picture below)
Remember, CONCRETE PAD NOT REQUIRED!
If you don't want to crunch the numbers for your Amish Shed, feel free to Contact Us and we will be happy to do it for you.
Payments can be made via e-transfer, certified cheque, or cash.  30% deposit required at time of order.
Amish Shed Kits
Don't have the space to have a fully built Amish Shed delivered to where you need it?
Order a kit and put it together yourself and a friend (watch our video).  All kits come with generic assembly instructions and drawings.
Kits are limited to size depending on delivery access.  For ease of assembly and safety, all kits require 3/4″ plywood floors and the 1″ Hemlock roof planks.  There is also not a gambrel roof option for the kits.  Please inquiry about the size that you are interested in.
Worried about having extra headroom?  It's possible we can ship your shed without the roof on for assembly after delivery to increase the wall height up to 8′ on gable roof sheds.  We can also ship you an entire kit with 8′ walls.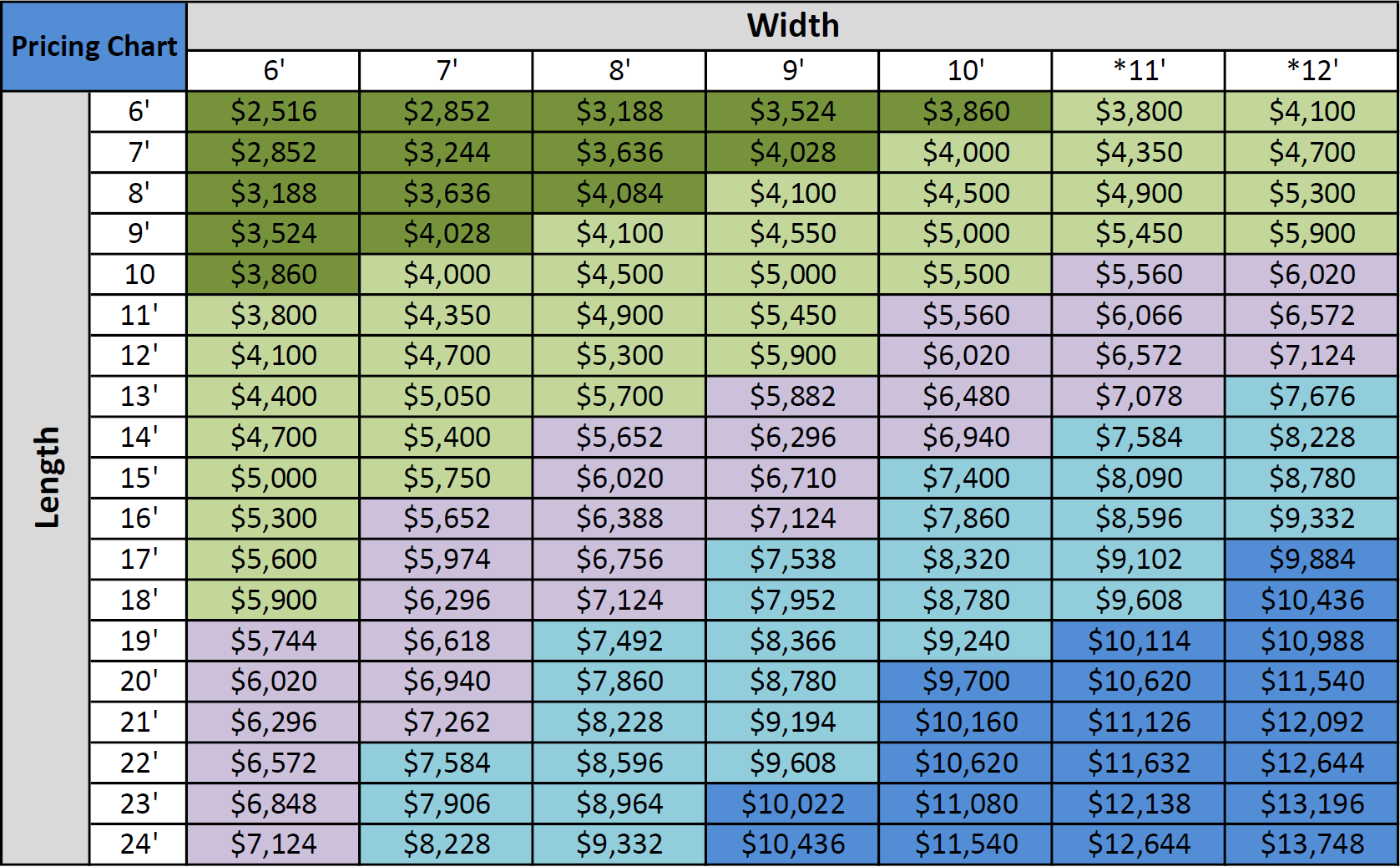 *Picture below shows a 12′ wide shed with the eaves not installed to keep within our 12′ wide shipping allowance.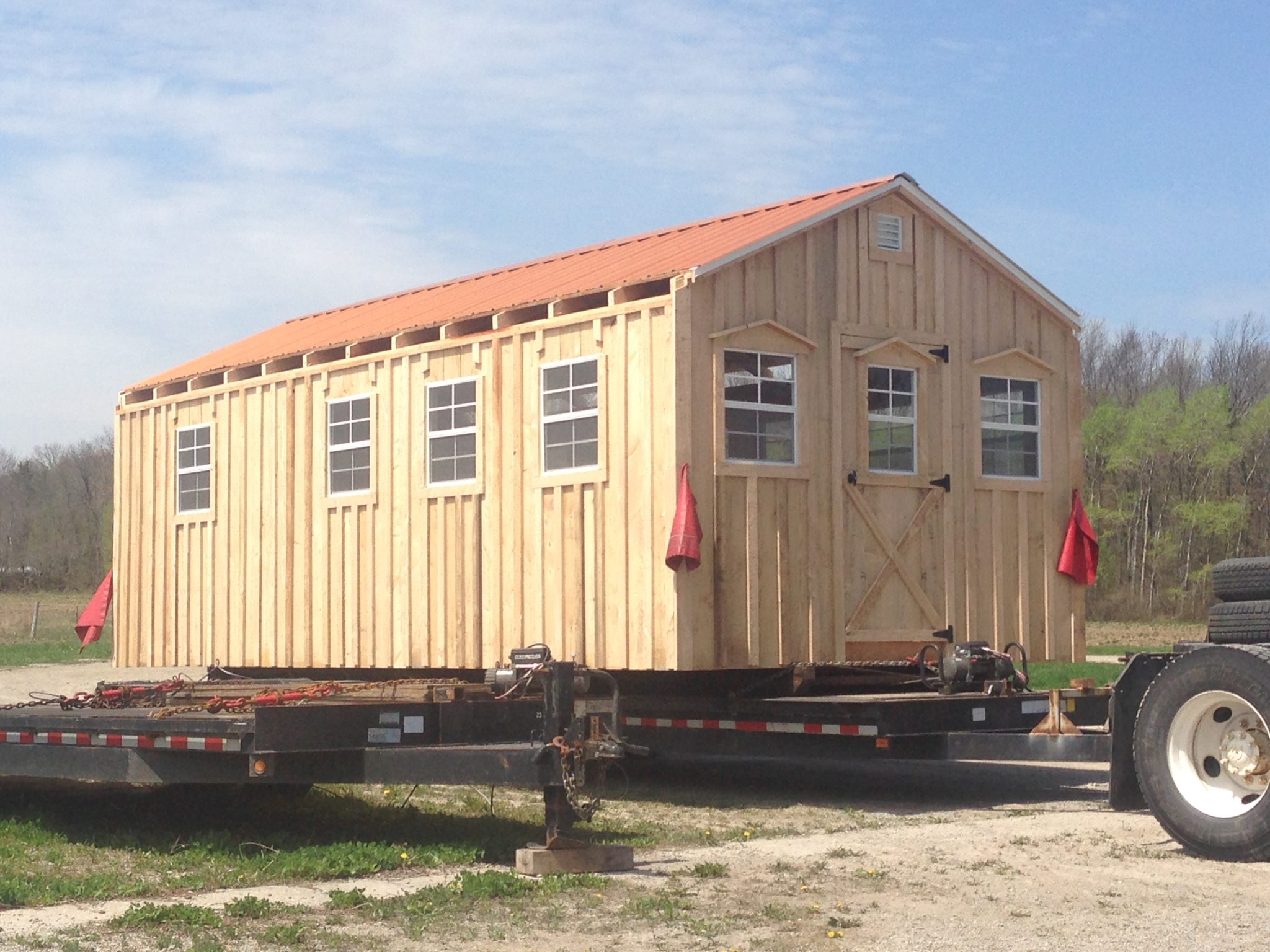 Available in Canada Only!