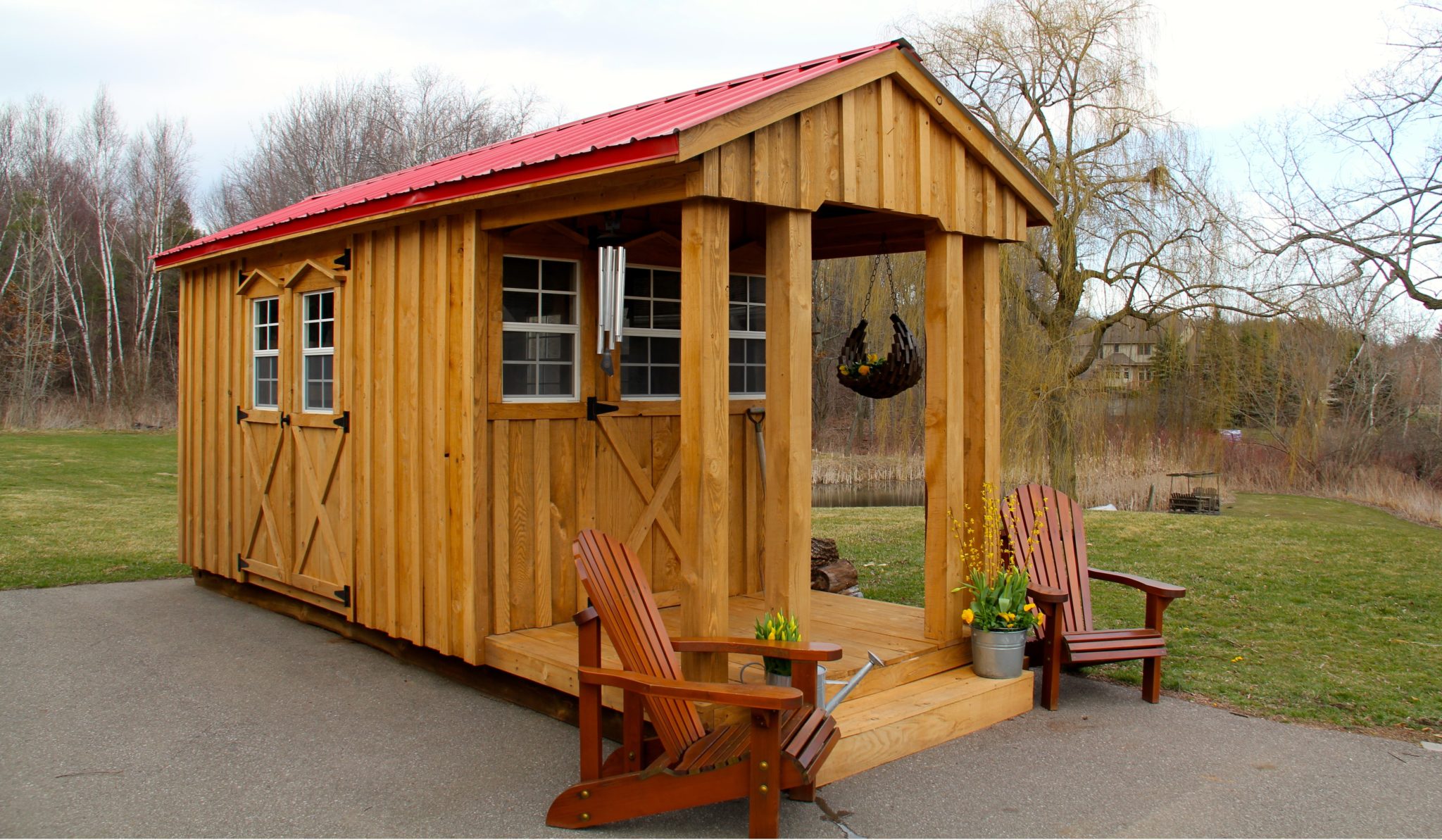 Garden Sheds • Bunkies • Workshops • Garages • Pool Houses • Playhouses • Bus Shelters • Fishing Huts
Whatever you need, our handcrafted Amish-built sheds are a fabulous addition to your property…
Amish Shed Video Tour
Walk through and around our completed sheds, the video shows the gable and barn style roofs.
*CUSTOM BUILT TO ORDER
*ENGINEER APPROVED
*NON-PERMANENT STRUCTURES
*CONCRETE PAD NOT REQUIRED
Our sheds are custom-built with 100% Hemlock Wood board and batten exterior. Hemlock wood has been used on barns for centuries. All our sheds come standard with steel roofs, lockable doors and sliding windows with screens.
Amish Shed Kits
Don't have the space to have a fully built Amish Shed delivered to where you need it?
Order a kit and put it together yourself and a friend (watch our video).  All kits come with generic assembly instructions and drawings.
Kits are limited to size depending on delivery access.  For ease of assembly and safety, all kits require 3/4″ plywood floors and the 1″ Hemlock roof planks  All other shed options and designs apply.  Please inquiry about the size that you are interested in.
Don't want to build? Crane it in!!!
If you don't have the truck access, and don't want assemble the kit, our fully built sheds can be craned into position.
We have an Engineer's Stamp stating that our sheds are 100% self-supporting, non-permanent structures that can be moved almost anywhere and do not need to be anchored down.  They can be placed on a few patio stones or a 6" deep, 3/4" crushed gravel base; a concrete pad is NOT required.
All sheds are delivered to your site as a fully assembled building.
(Amish Shed Kits Available) They are built on 7″ skids made of treated Hemlock wood; designed to keep your shed off the ground to prevent it from rotting, allowing your shed to last a 'lifetime'.
Available in Canada Only!