About Amish Sheds
AMISH SHEDS INC. Delivered to your site as a fully assembled building.
What We Know
Amish construction is known for quality craftsmanship and Amish built sheds aren't anything new. Amish Sheds Inc. has made Amish built sheds available to people in Ontario Canada who appreciate the construction quality and want their very own Amish Shed. Having an already successful business in construction, and a background in engineering, we, the current owners of Amish Sheds Inc. were presented an opportunity to keep an existing business alive. Since 2007 Amish built sheds have been brought over from a small town in South Dayton, New York. Why do we need to bring these Amish built sheds over from the U.S you ask? Well, one of the secrets to the longevity of the sheds lies in the type of wood that is used for the construction of the shed, Hemlock. Hemlock has been used for centuries to build long lasting barns, and has an inherent ability to deter insects such as spiders and carpenter bees.   To this day Hemlock wood is reclaimed from these old barns and repurposed because of the beauty and integrity of the wood. Hemlock trees are not very abundant in our area of Ontario, but are in New York & Pennsylvania State.
Keeping in strong Amish tradition and beliefs, the wood is hand selected, harvested, and pulled from the bush using horses. Selective logging helps leave the rest of the forest in tact and allows the smaller trees to mature. The timber is then milled to order at an old-fashioned sawmill, air-dried, and our Amish Shed is custom built to order.
No matter what size of Amish Shed, your shed will be installed and ready to use within a couple of hours.   Compared to having a conventional building built, there is no need to deal with concrete contractors, framers and roofers.  Your Amish shed will come fully built *and ready to use, all you need to do is add your personal touch (*see exception with 12' wide sheds on Pricing page)
The Amish
The Amish live without a lot of the conveniences that most of us are accustomed to. They shun modern technology and transportation for the Amish is by horse and buggy. They do not have electricity or telephones in their homes and often use generators to create power to run their equipment and use horses, instead of tractors, to do farm work. Many of the shop tools are run off of gas engines such as table saws and drill presses.
The Amish are kind, respectful, hard working, and generous people. The Amish heavily rely on farming to support their families and help each other out when needed. It is because of this that our sheds are given a rather large delivery window to account for any issue that may come up within the Amish community.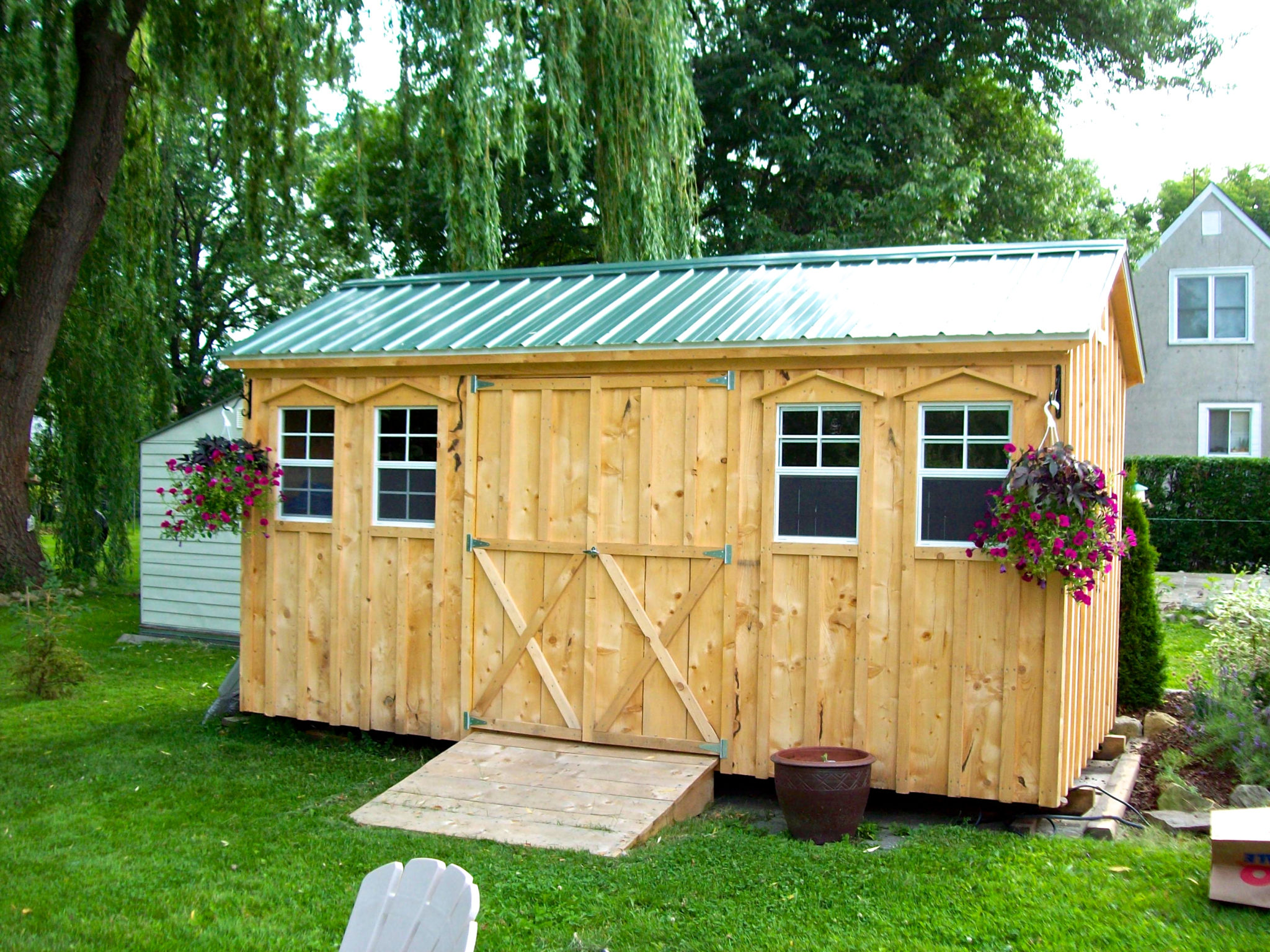 Available in Canada Only!